Dear valuable customer, please take a note: All our Service Centres and Franchises will remain closed Due to the COVID-19 pandemic until 5th May 2021.
Wheel Alignment And Balancing Near Me
Tyre hub is a leading provider of wheel alignment services in Ahmedabad. Our experts can help you guide with the signs that indicate whether you need an alignment or balancing services. We understand how important it is to get your tyres serviced at the right time as tyres run your car. And, Tyre hub keeps you moving.
How It Works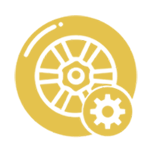 Buy Tyre Or Service
Select Service partner near by you for Installation
Make Payment And Take Invoice